Link to MORE of the Web Site Pages
2019 Annual Alumni Reunion
2019 Banquet Email reservation form
The time for the 2019 Reunion is closing in.
The banquet will be at the The Wildflower, 2611 E Dairy Ln, Tishomingo, Ok 73450
The band is "Bronson Proppell and the Lower Level Professionals"


dancing from 8 pm until Midnight.
Directions:
East of Tish on highway 22/78 for approximately 3.6 miles, turn north on Bullard Chapel Rd for approximately 2.5 miles, turn east on Diary Ln for approximately 0.3 miles.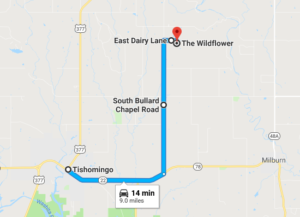 Make Reservations:
To print the reservation form click on
2019 reservation form and print from your browser.
Complete and mail it with your check for you and your spouse
and/or guest for your reservation, scholarship donation, contribution to association expenses.
We need your support to add content to your alumni website.  Email photos, articles, anything you would like to share to Tishomingo Alumni Association